Puppies
We are planing interesting combination for winter 2020. Parents are checked dogos in shows, life with people and they have high prey drive also. We hope to get perfect dogos. For more information please take a contact with me Viber/WhatsApp +372 55950492 or call, e-mail blanco.solar@hotmail.com
K-LITTER Born 06.12.2018 Unique combination with champions. The Father is Junior Champion of Slovakkia, Champion of Slovakkia, Derby Winner 2016, Riga Winner 2018, Latvian Champion Fausto Espiritu Greco Antu Makto. He is out of one of the best dogos ever Mapuche Intrevero born in Argentina and amazing female out of Camalote II del Litoral Buena Antu Makto. The Mother is Estonian Junior Champion, Latvian Junior Champion, Lithuanian Junior Champion, Baltic Junior Champion, Tallinn Winner 2018, Estonian Winner 2018, Estonian Champion, Latvian Champion, Finnish Champion, Lithuanian Champion, Baltic Champion Blanco Solar Hualka. She is out of my breeding female and a male from Argentina. Both parents are balanced temperament and you can see them here! For more informations please contact me Viber/WhatsApp +372 55950 492 or blanco.solar@hotmail.com Combination with very sound temperament and excellent body structure and heath. This is 5th generations of dogo I saw myself! Health and temperament gurantee. Video with puppies https://www.youtube.com/watch?v=_fz-J1SYI5E
Blanco Solar Keep an Angel (BAER test full hearing), female living in
USA Blanco Solar Kashmir (BAER test full hearing), male living in Estonia
Blanco Solar Killay (BAER test full hearing), male living in Poland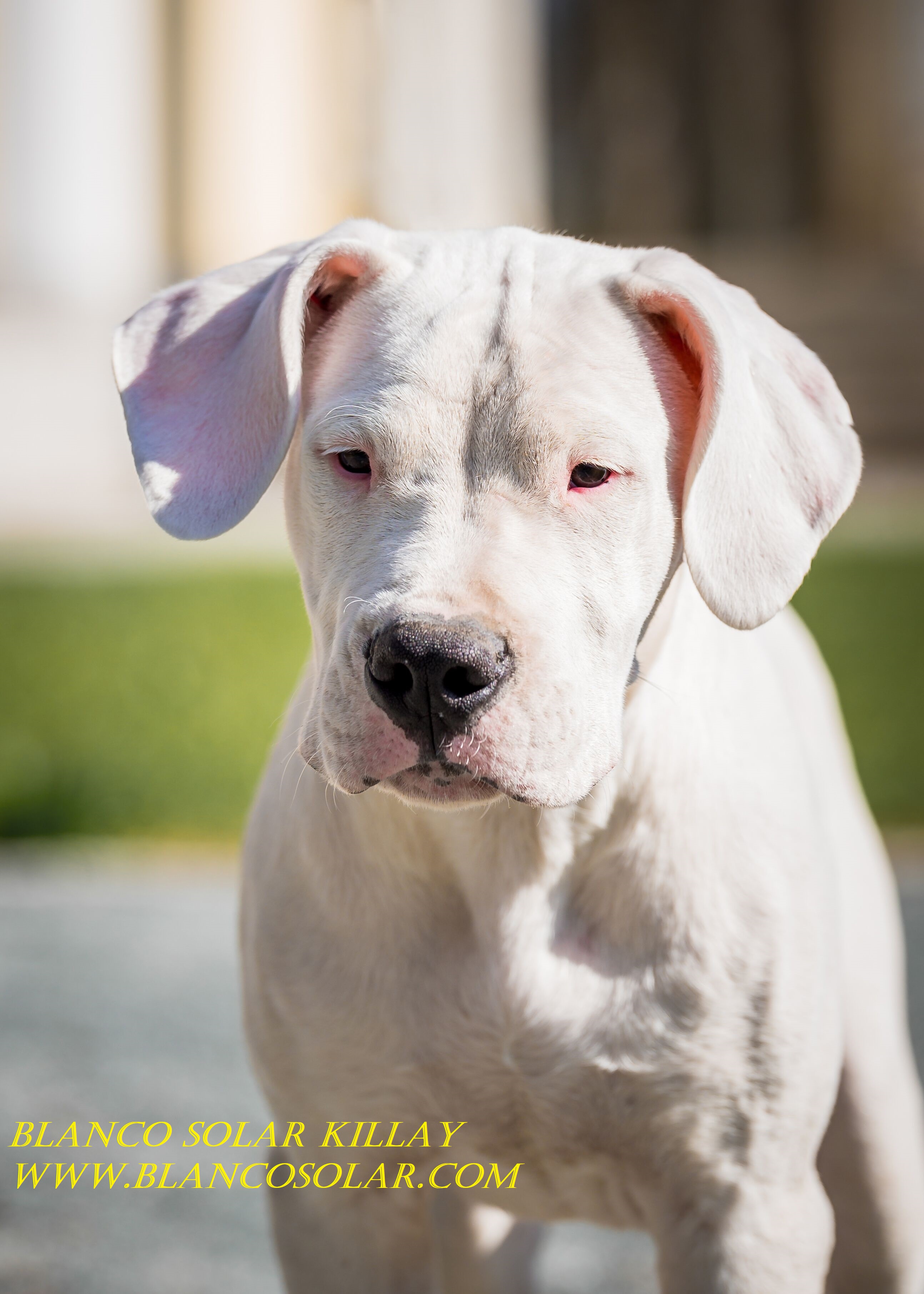 On photo Killay
Pedigree of K-litter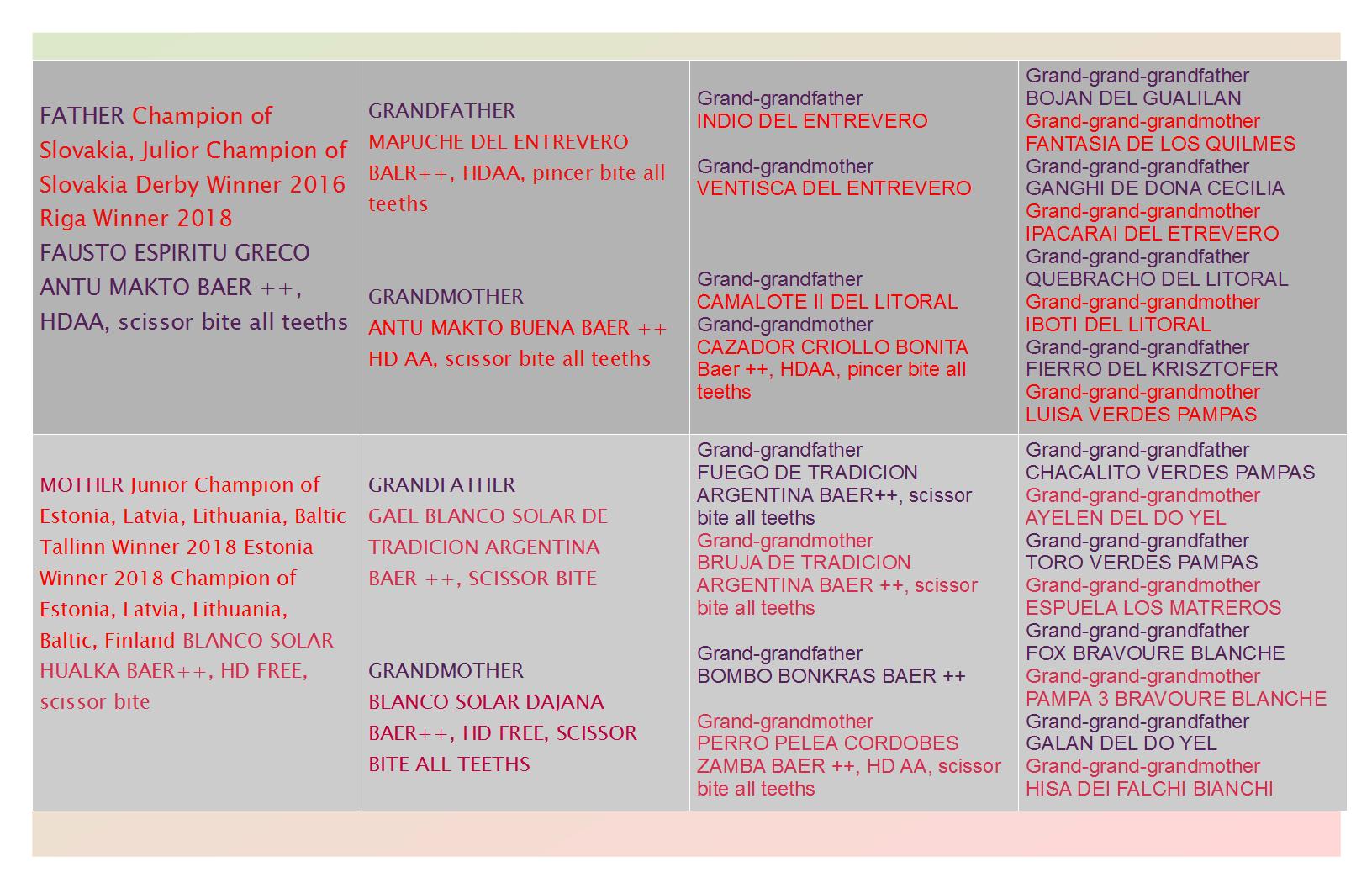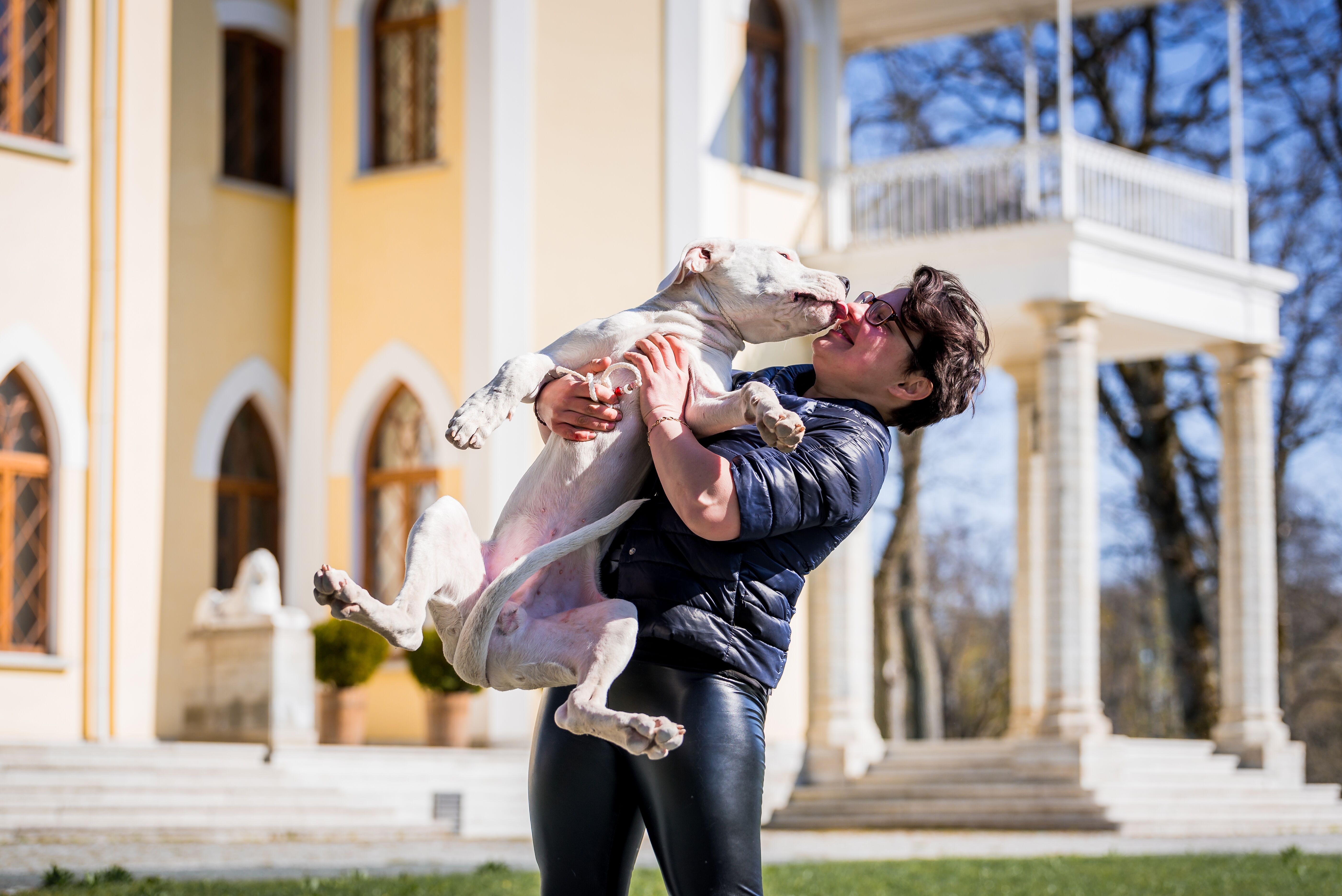 J-LITTER born 03.03.2018 All Puppies from J-litter are full hearing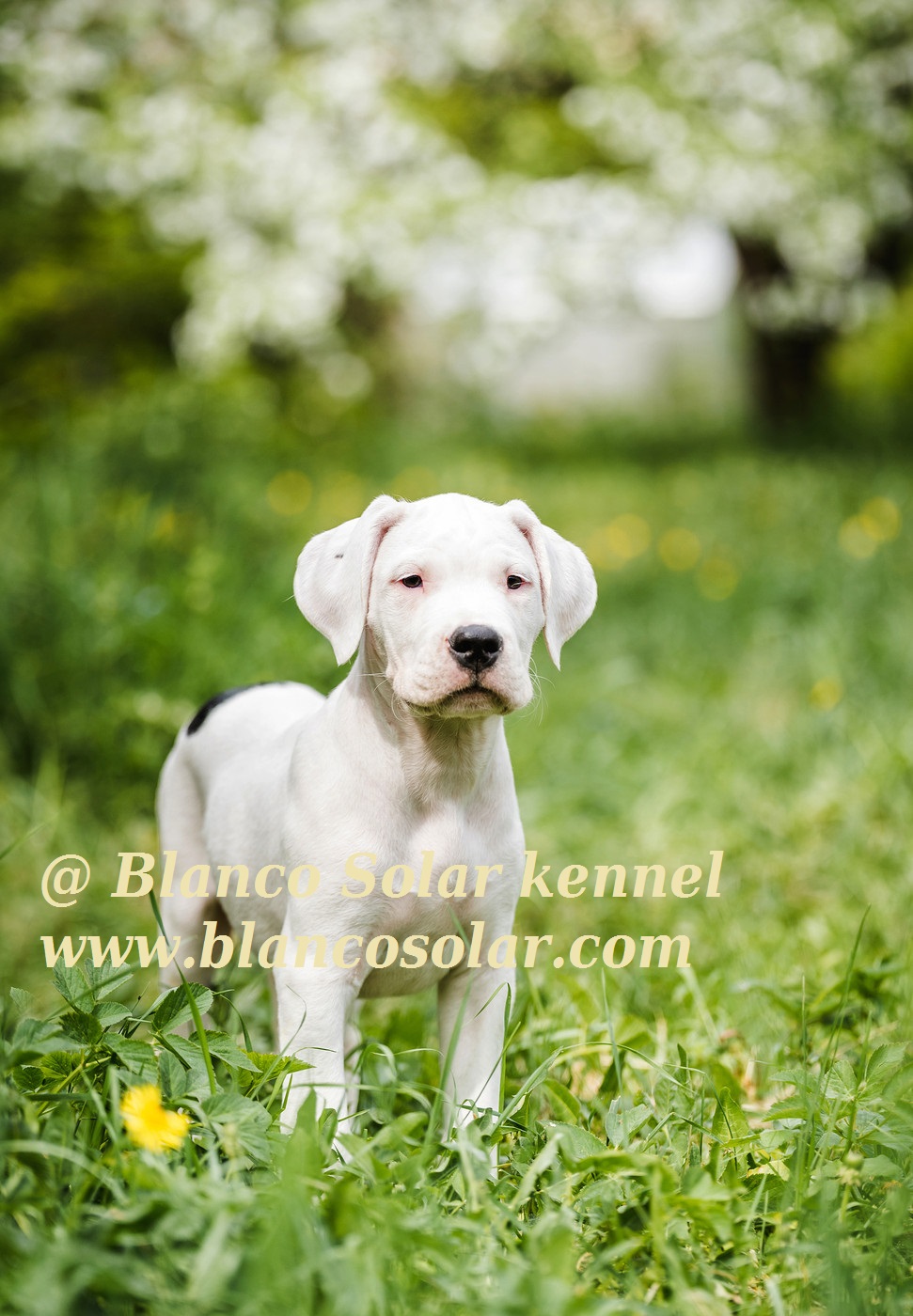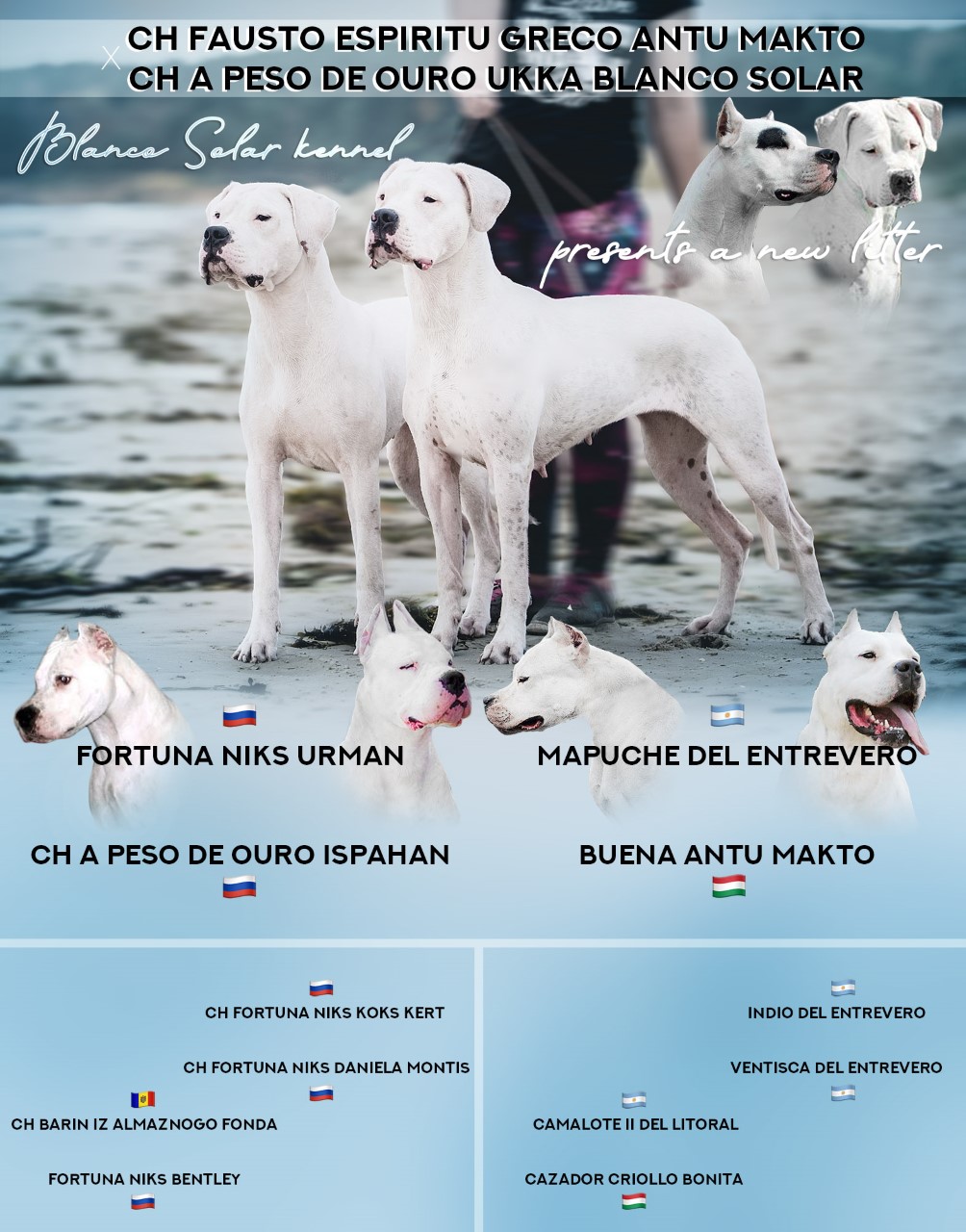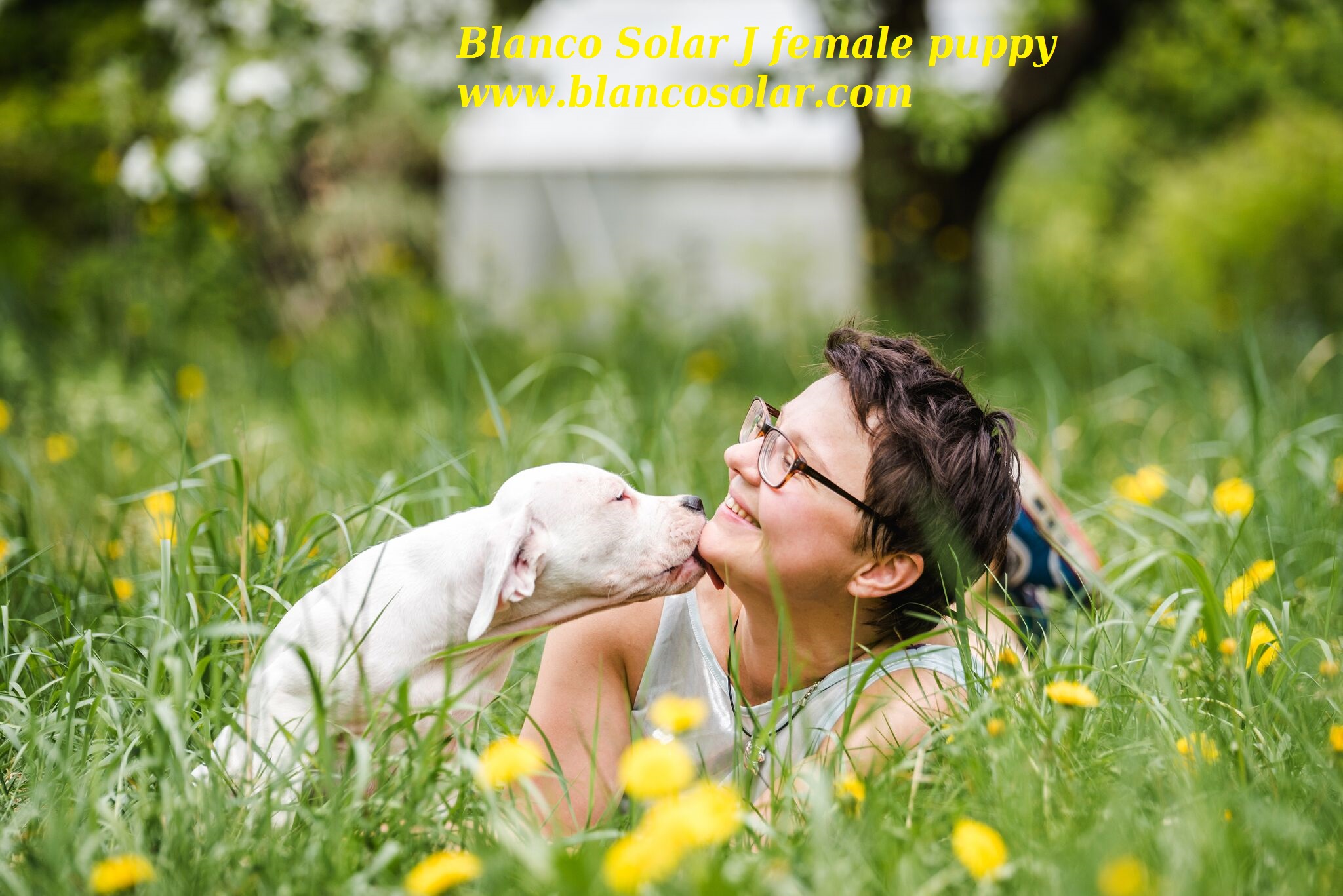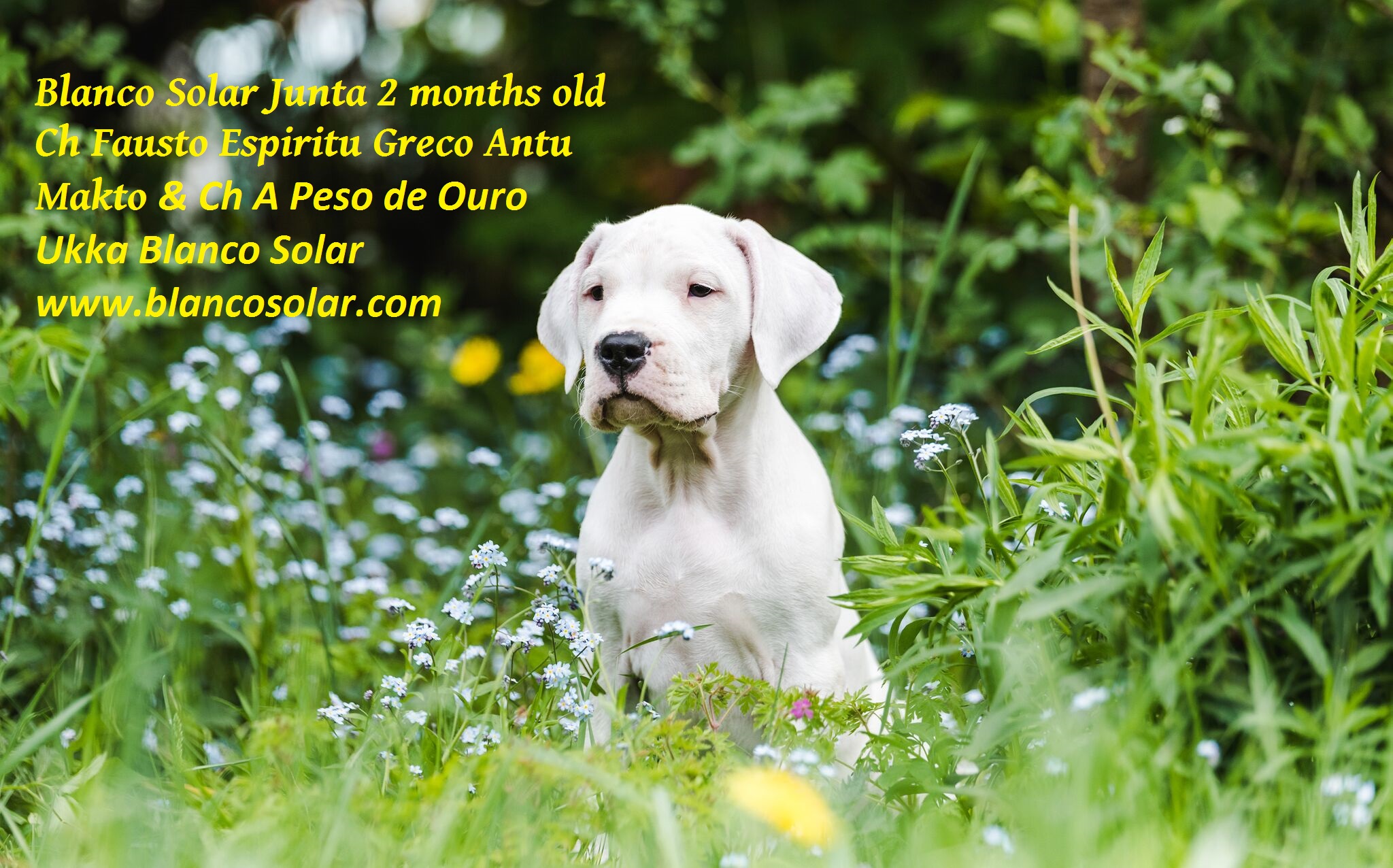 Mother to this litter is A Peso de Ouro Ukka Blanco Solar is multiply Champion and Winner, she is out of full Brother to World Winner 2016. Father of the litter is from very strong breeding of kennels Espiritu Greco and Antu Makto. Fausto is out of Mapuche del Intrevero and wonderful Buena Antu Makto. Behind Buena is out of strong breeding Kennel del Litoral
Blanco Solar Jabali, male - Estonia
Blanco Solar Jaguape, male - Estonia 2 Best of Breed Baby, Best Junior, Best of Breed
Blanco Solar Jalon, male - Switzerland
Blanco Solar Jovinal, male - Finland
Blanco Solar Jacanero, male - Latvia
Blanco Solar Jarra, female - Estonia
Blanco Solar Joya, female - Estonia
Blanco Solar Jauria, female - Estonia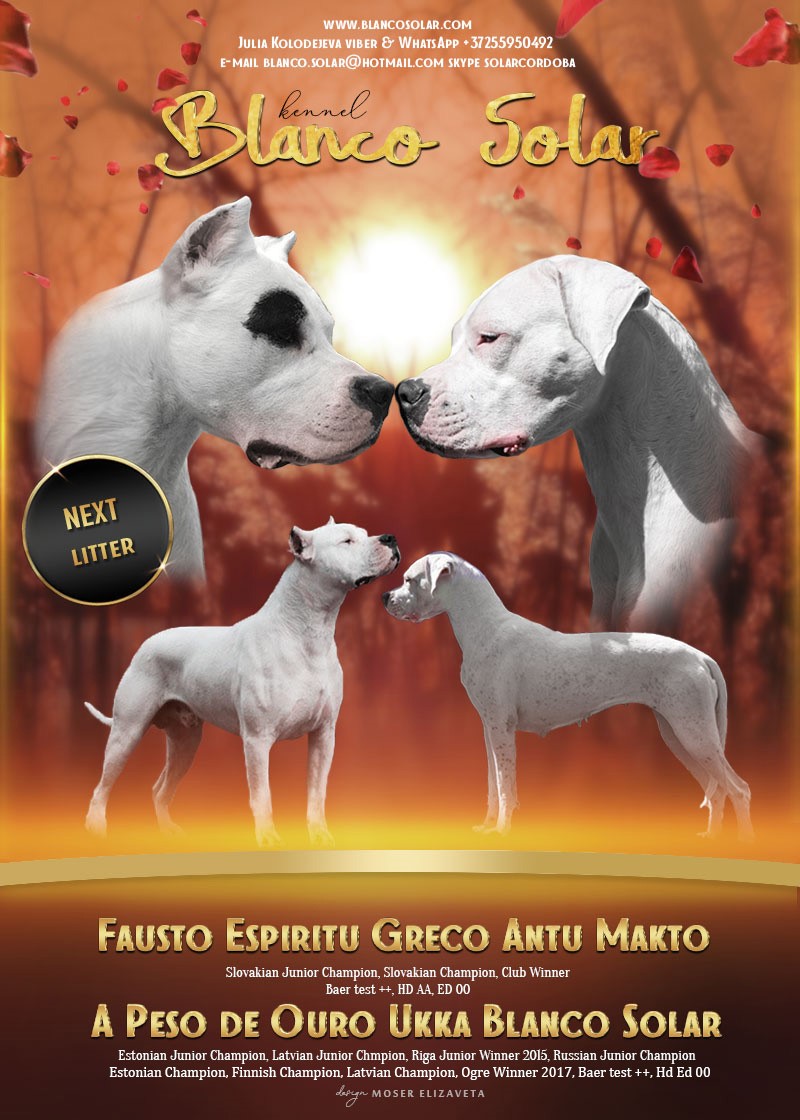 Puppies are born 10.12.2016! 3 boys and 7 girls!
Father of the puppies is Junior Champion & Latvian Champion & Lithuanian Champion Gringo von Weiss Fangzahne. Gringo has very stabile temperament and strong body and outstanding beautiful head. He is out of Argentinian female Oxa de Argentum, who is daughter of outstanding Arg Champion Trubulusi de la Vieja Diana and Azahar de Argentum, who has given a lot of wonderful dogos. From fatherside Gringo has Multi Champion Victor Divina Fortitudo. Victor is a son of Argentinian Champion and Multi Winner Pampero Ackon Cahuak and beautiful female Iris dei Falchi Bianchi.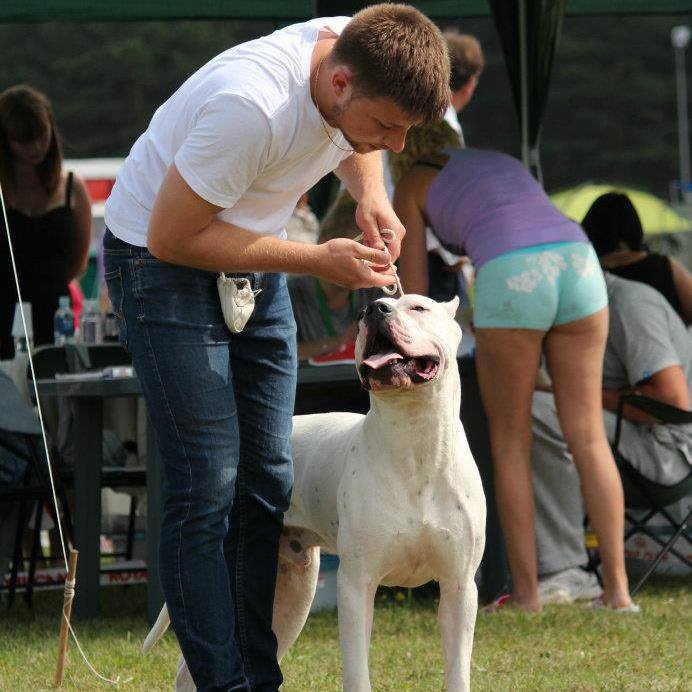 Mother of the puppies is my wonderful Uka -
A Peso de Ouro Ukka Blanco Solar.
She is Junior Champion and Junior Winner. A female with lovely nature and personality. Under News you can find all her results from puppy hood till nowdays.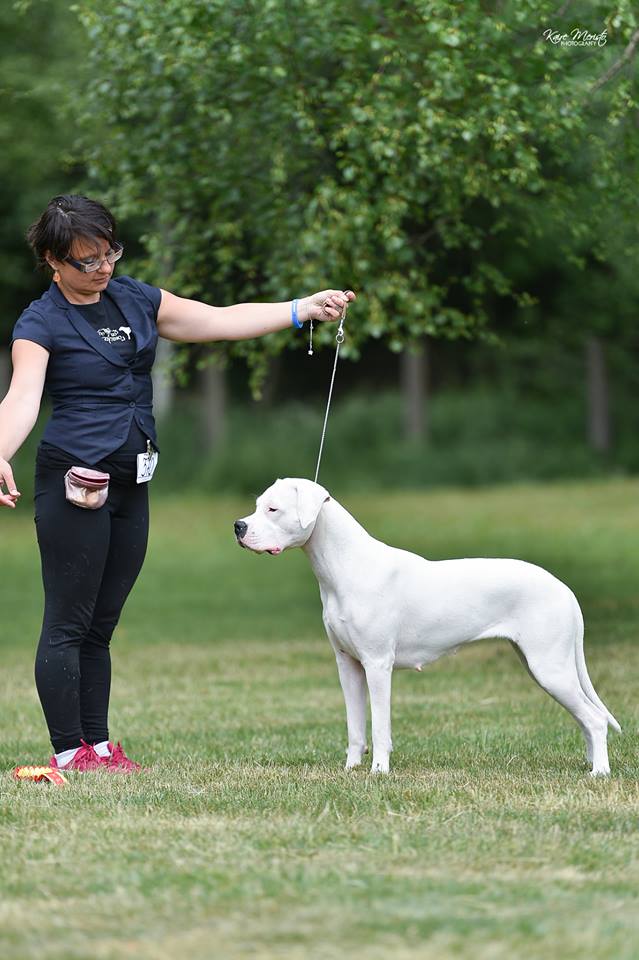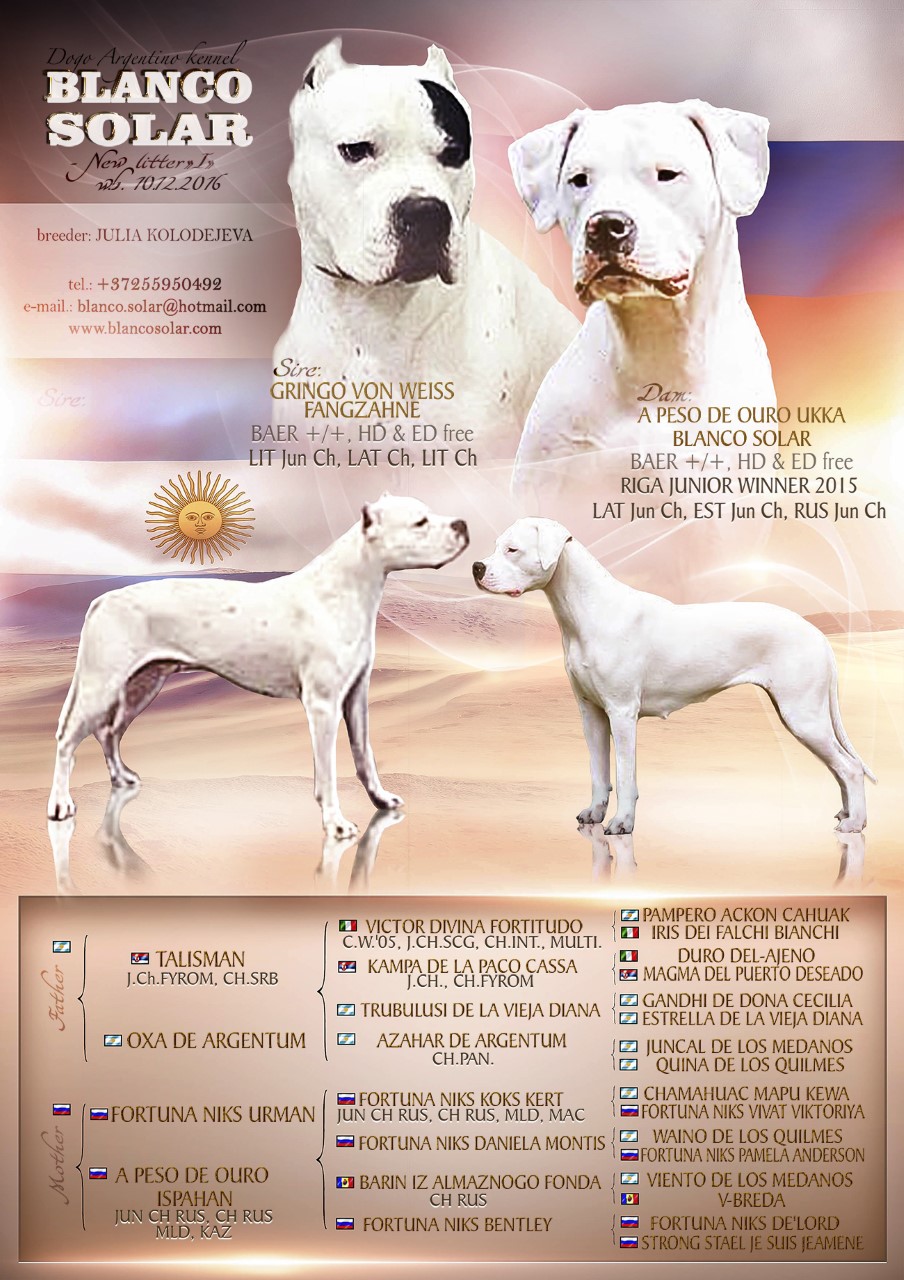 Thank You for the wonderful photos Marjana!!!
Blanco Solar Inti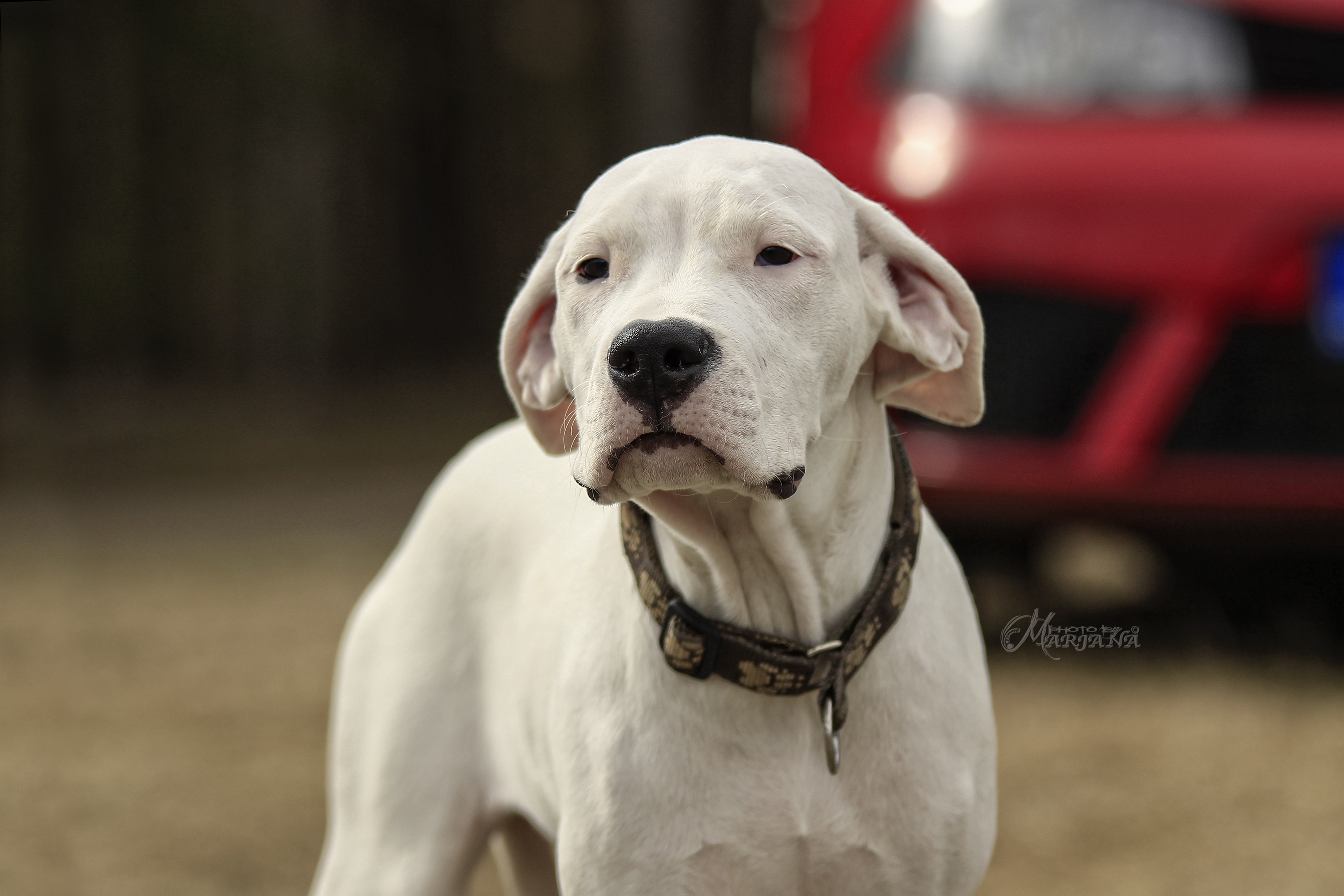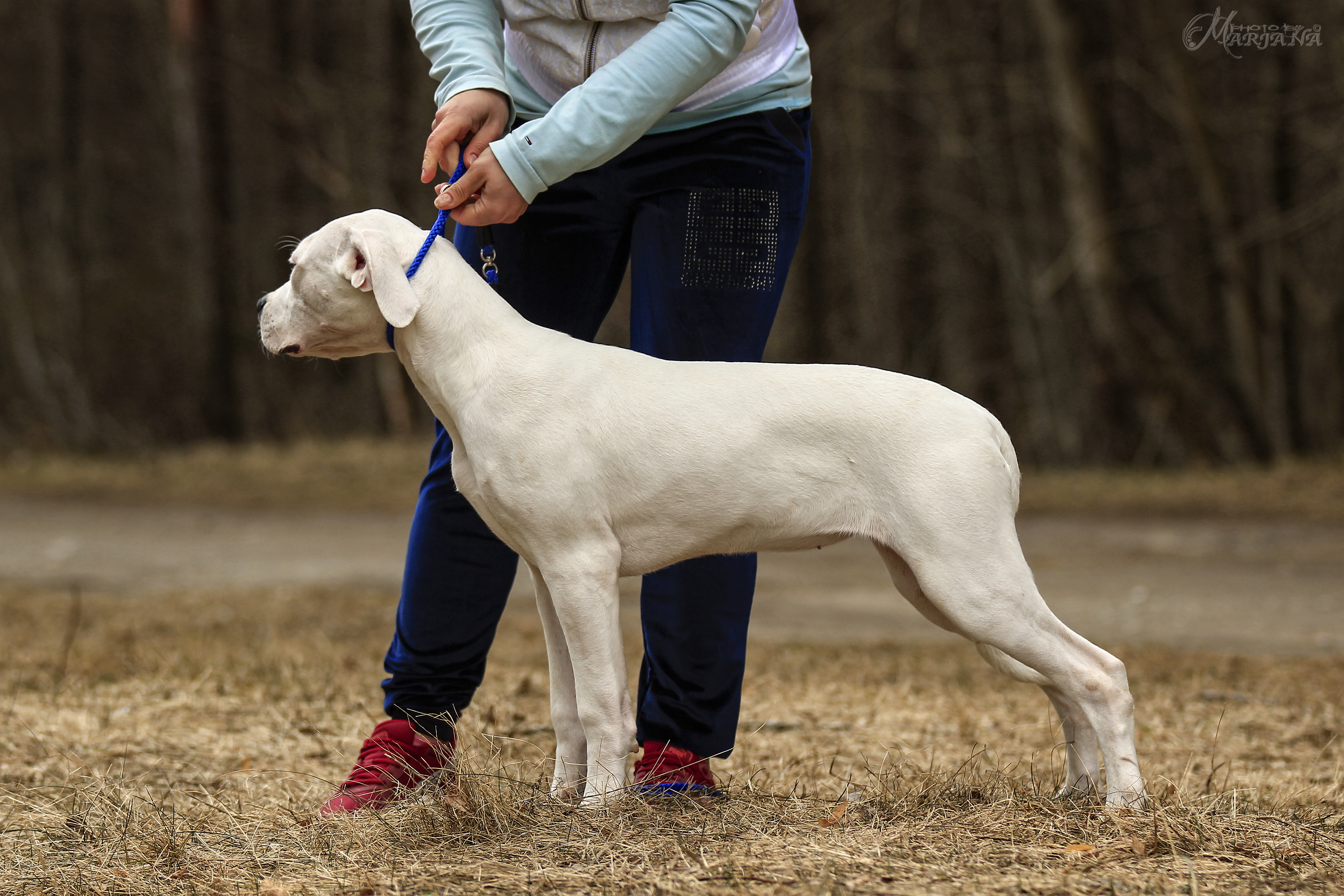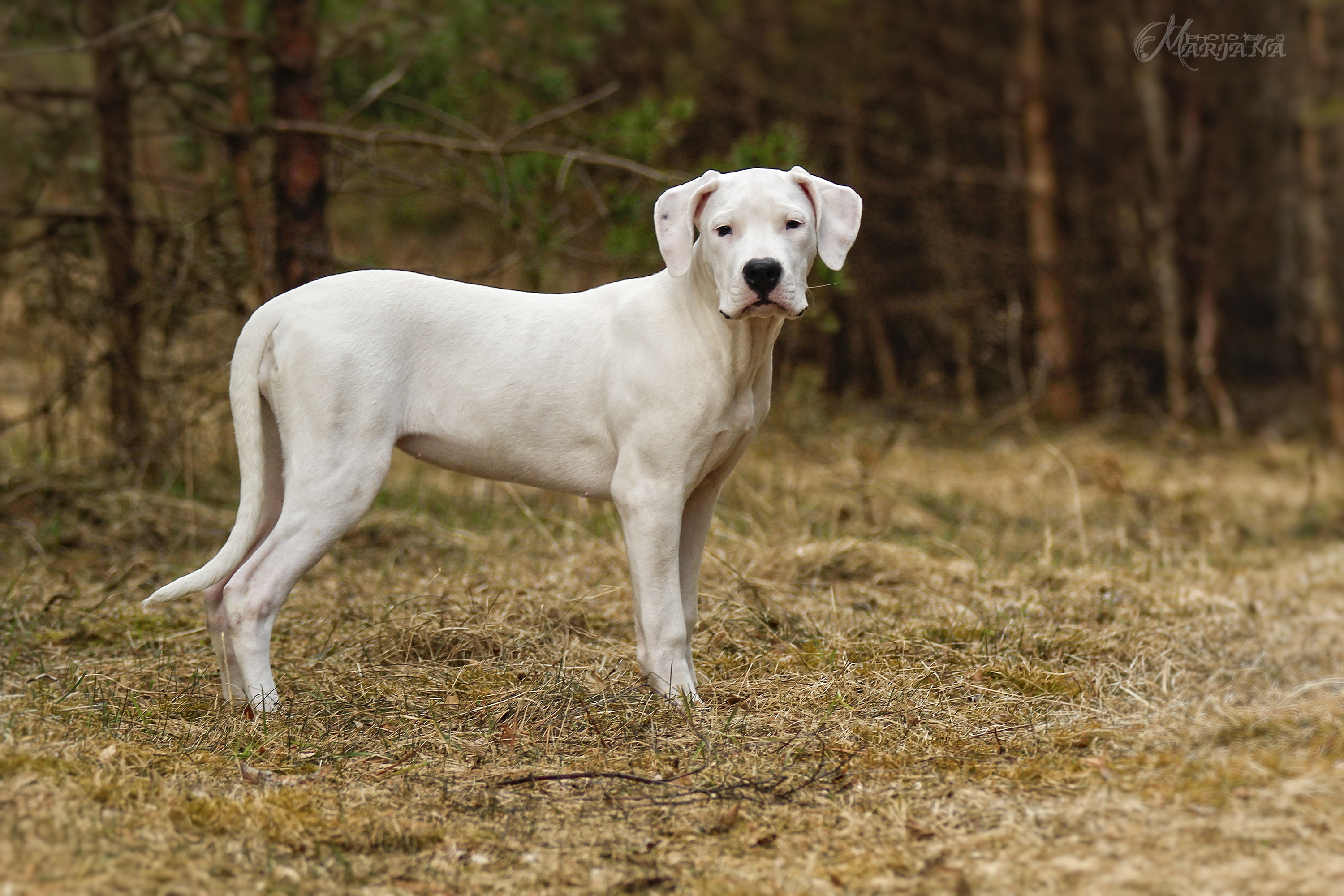 Blanco Solar Isidoro, male is living in Estonia
Blanco Solar Its Zeus, male is living in USA
Latvia Junior Champion, Estonia Junior Champion, Lithuania Junior Champion, Baltic Junior Champio
n Latvian Champion Lithuanian Champion Estonian Champion Baltic Champion CACIBs
Blanco Solar Isabel, female is living in Latvia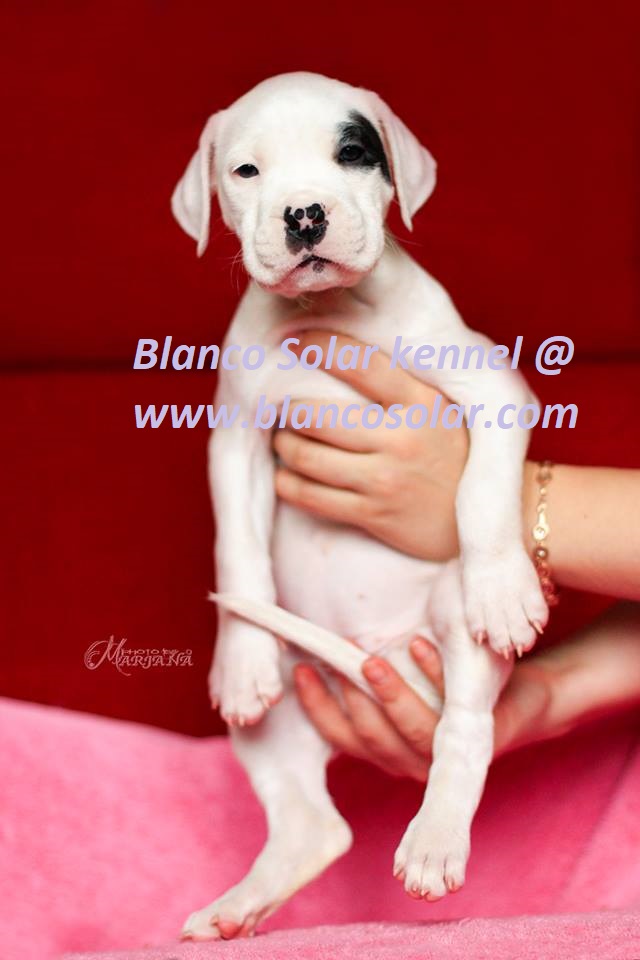 Blanco Solar Italiano, male is living in Latvia 3 Best of Breed Puppy Best Junior LV JunCAC BOO
Blanco Solar Infinity, female is living in Finland
Blanco Solar Ishtar, female is living in Austria
Blanco Solar Itala, female is living in Saudi Arabia
Blanco Solar Inti, female is living in Estonia
Junior Champion
Blanco Solar Isla, female is living in Latvia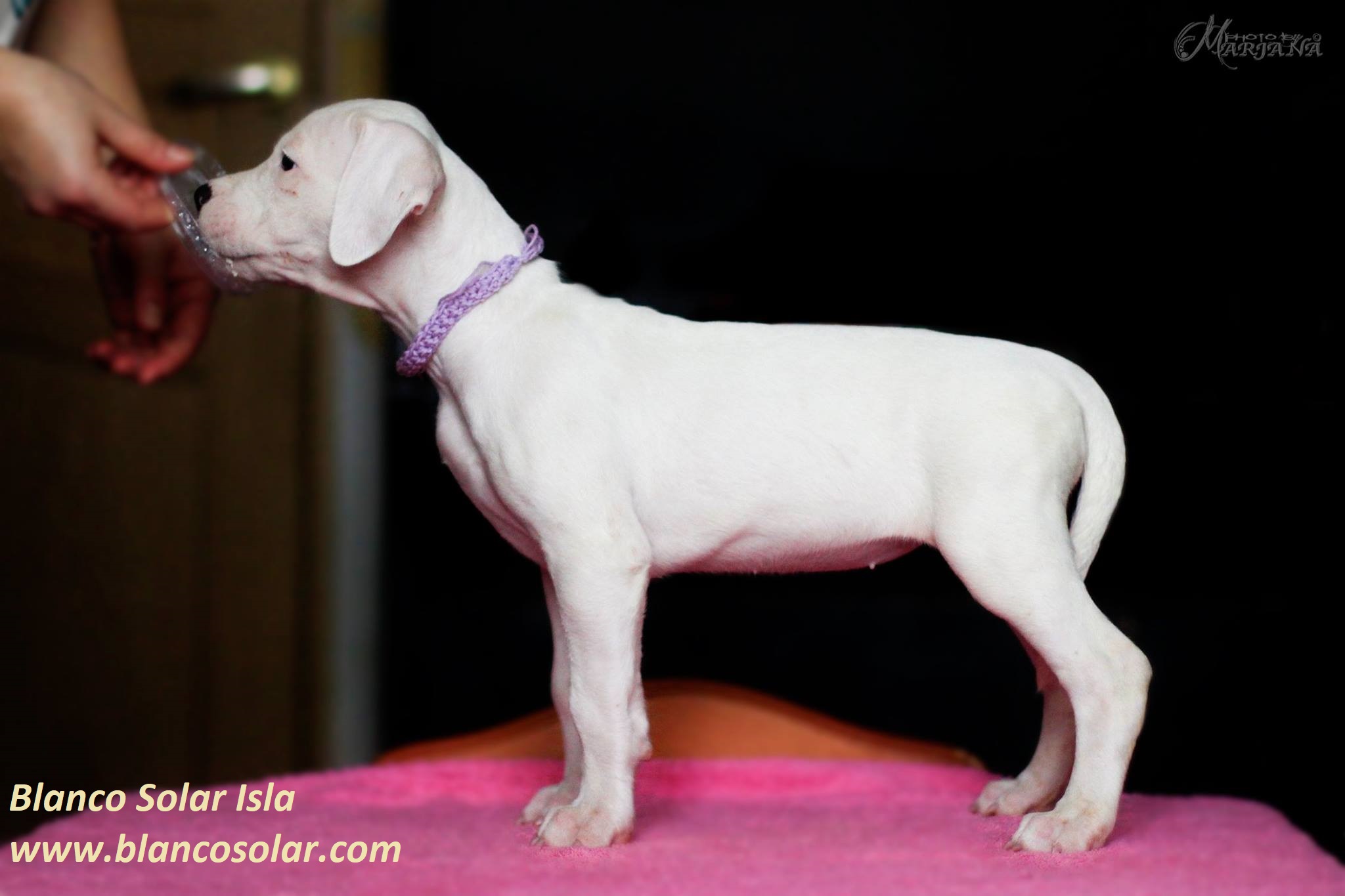 Blanco Solar Isidora, female stays in kennel


24 May 2015 was born dogo girl!
Gael Blanco Solar Tradicion de Argentina
Import Argentina
born 19.03.2011
father Fuego de Tradicion Argentina
mother Bruja de Tradicion Argentina
BAER +/+

Ch Blanco Solar Chala
born in our kennel 27.08.2008
father CH JACKLAFURIA
mother MULTI CH PERRO PELEA CORDOBES ZAMBA
BAER +/+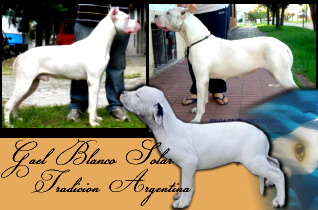 H-Litter (12.05.16) Dogo Argentino Father Gael Blanco Solar de Tradicion Argentina & Mother Blanco Solar Dajana
G-Litter (31.05.2015) Dalmatians Father MULTI CH O`Zone Ilmarinen & Mother CH Absolute Love Be My Norwegian Fairytale
F-Litter (24.05.2015) - Father Gael Blanco Solar Tradicion Argentina & CH Blanco Solar Chala
E-Litter (01.09.2011) - Father Jevil's Aria & Mother CH Blanco Solar Chala
D-Litter (01.03.2010) - Father Bombo Bonkras & Mother MULTI CH Perro Pelea Cordobes Zamba
C-Litter (27.08.2008) - Father CH Jacklafuria & Mother MULTI CH Perro Pelea Cordobes Zamba
B-Litter (09.04.2008) Dalmatians Father World Winner 10 & Europe Winner 10 Alphadirato Future Brand & Mother CH Blanco Solar Dad`s Baby
A-Litter (13.05.2005) Dalmatians Father Multi CH Zabavan Uzenii & Mother CH Alderisland Amazing Amanda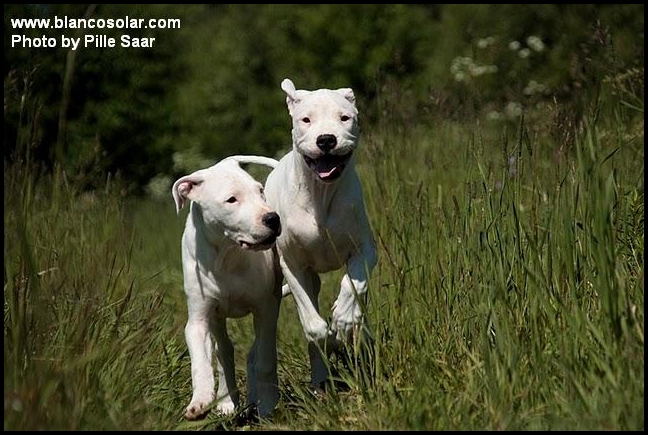 If you are seriously interested in a puppy from us please contact us blanco.solar@hotmail.com or +372 55 950 492 or via skype using nickname solarcordoba. We would like to communicate to our puppy-buyers as long as possible to find out your expectations and hopes for future dog. A puppy from us has FCI-EKU pedigree, he/she is BAER tested, dewormed, microchiped, living in family and used to normal life. Our dogs living with us as members of our family.