Blanco Solar Chala
born in our kennel 27.08.2008 (C-litter)

father: CH JACKLAFURIA
mother: MULTI CH PERRO PELEA CORDOBES ZAMBA

BAER +/+, kõik hambad, HD AA, ED 00 , all teeth
hight 63 cm, weight 43 kg
LATVIAN CHAMPION
CLUB WINNER 2011
ESTONIAN CHAMPION
INTERNATIONAL CHAMPION CERTIFICATES
BALTIC JUNIOR WINNER 2009
JUNIOR CHAMPION OF ESTONIA
JUNIOR CHAMPION OF LATVIA
JUNIOR CHAMPION OF LITHUANIA
JUNIOR CHAMPION OF BALTIC STATES
BIG 4
BEST DOGO ARGENTINO 2009 AND 2010

ESTONIAN VETERAN CHAMPION

RETIED
Chala father is born in Italy (Meyor - Thelma di Casa dei Marchesi).
Chala mother is the dogo with numerous titles PPC Zamba (Galan del Do Yel - Hisa dei Falchi Bianchi).
Blanco Solar Chala is presious dog in our kennel, in her pedigree are joined outstanding dogos. From mother side is Audacity Clo blood with her daughter Hisa dei Falchi Bianchi and from father side is Lacar Bravoure Blanche blood with her and WW Talisman de la Vieja Diana famouse son Ninocaliente di Casa dei Marchesi. We are grateful to Tina Kurikka-Mäkelät (kennel Jevil`s Finland) for such top blood being possible in my breeding.
All puppies from C-litter are BAER tested and all are full hearing.
Chala is a dogo with temperament and drive as a real show dog should be. She wins a lot at dogshows and gets very nice discriptions as a godo with excellent type, head, pigmentation, dark eyes, body and movements.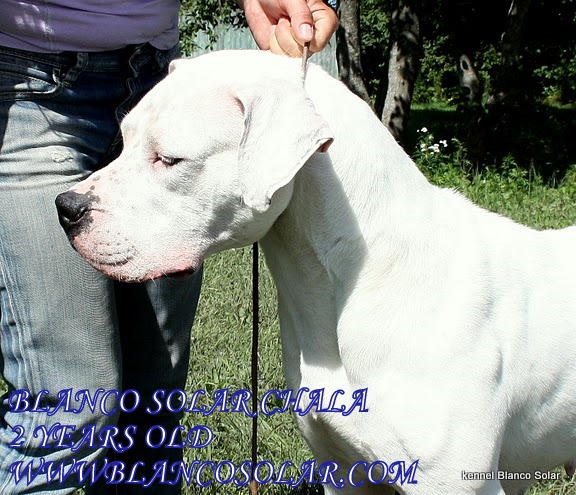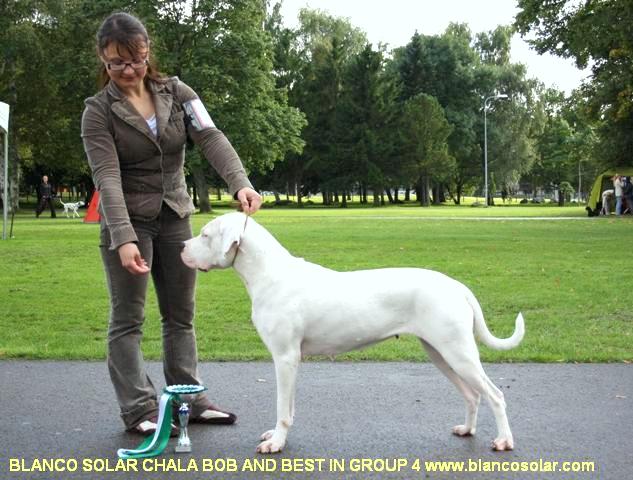 Jacklafuria
HD free
BAER tested
all teath
Italy

Vice Euro Winner 2,3, Int Ch, It CH, Slo CH
Morfeo Della Mezzaluna
Italy

Mole del Tumi
Argentina

Huarami del Tumi
Argentina

Milonga de Vianini
Italy

Oriundo de Vianini

Sonsoles de Vianini

Thelma di Casa
Marchesi
Italy

Ninocaliente di Casa
Marchesi
Italy

World Winner OO
Talisman de la Vieja Diana
Argentina

Lacar Bravour Blance
Argentina

Kellen de los Quilmes
Argentina

Fausto de los Quilmes
Argentina

Maleva de Nueva Cordoba
Argentina

Est JCH, Lv JCH,
Lt JCH, Balt JCH,
Est JW7, Lt JW7
Perro Pelea Cordobes
Zamba
HD AA OO
BAER tested
all teath

Galan Del Do Yel
HD AA
BAER tested
All teath
Argentina

Kaiser de Don Cima
Argentina

Antua de la Chueca
Argentina

Grisel de Don Cima
Argentina

Yuca de Veroned
Argentina

Cauquen de Veroned
Argentina

Alma de Don Cima
Argentina

Hisa dei Falchi Bianchi
HD AA
BAER tested
All teath
Italy

World Wnner O2 Int CH
It Ch
Actarus (Falchi Bianchi)
Italy

It Ch
Rustij dei Falchi Bianchi
Italy

Amy
Italy

Repr CH
Audacity Clo
Argentina

Audacity Alef
Argentina

Zamba del Indio Blanco
Argentina