Perro Pelea Cordobes Zamba
born 11.03.2006

father: GALAN DEL DO YEL
mother: HISA DEI FALCHI BIANCHI

BAER +/+ , HD AA, ED 00
hight 65, wight 45 kg
INTERNATIONAL CHAMPION
ESTONIAN CHAMPION
LATVIAN CHAMPION
LITHUANIAN CHAMPION
CHAMPION OF BALTIC STATES
FINNISH CHAMPION
RUSSIAN CHAMPION
RKF CHAMPION
ESTONIAN WINNER 2009
BALTIC WINNER 2009
ESTONIAN JUNIOR CHAMPION
LATVIAN JUNIOR CHAMPION
LITHUANIAN JUNIOR CHAMPION
JUNIOR CHAMPION OF BALTIC STATES
ESTONIAN JUNIOR WINNER 2007
LITHUANIAN JUNIOR WINNER 2007
BIG 4
BEST DOGO ARGENTINO IN ESTONIA 2008
BEST IMPORT DOG
This female is with wonderful temperament, loving people, children and dogs.
She is with very good anatomy and excellent health as well as great reproductor. She dave me such a branch of outstanding offsprings.
PPC Zamba`s mother is Hisa dei Falchi Bianchi (dei Falchi Bianchi kennel Italy). BAER tested, HD A. She was bred from argentinian line of Audacity Clo and Italian World Winner 2002 Actarus. Hisa has correct anatomy, good health, lovely character. It was extremely pleasant experience to handle Hisa in her homekennel. From father side is Galan del Do Yel from Argetnina (HD AA, ED 00, BAER tested).
Zamba has left in Year 2013. She is always with me, my Dream, my Angel...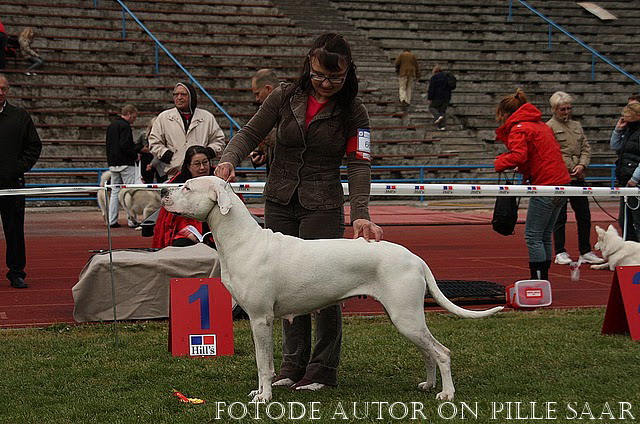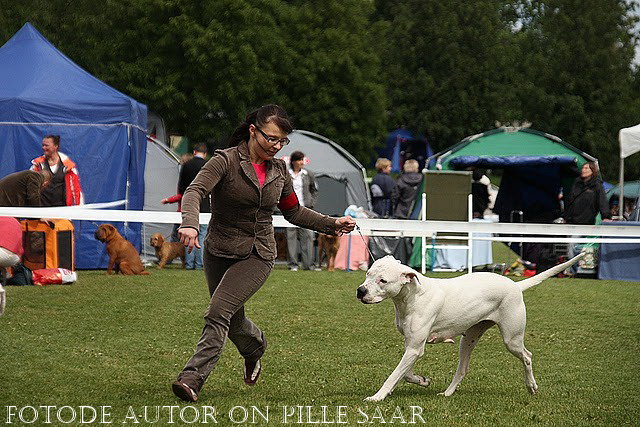 Est JCH, Lv JCH,
Lt JCH, Balt JCH,
Est JW7, Lt JW7
Perro Pelea Cordobes
Zamba
HD AA OO
BAER tested
all teath

Galan Del Do Yel
HD AA
BAER tested
All teath
Argentina

Kaiser de Don Cima
Argentina

Antua de la Chueca
Argentina

Grisel de Don Cima
Argentina

Yuca de Veroned
Argentina

Cauquen de Veroned
Argentina

Alma de Don Cima
Argentina

Hisa dei Falchi Bianchi
HD AA
BAER tested
All teath
Italy

World Wnner O2 Int CH
It Ch
Actarus (Falchi Bianchi)
Italy

It Ch
Rustij dei Falchi Bianchi
Italy

Amy
Italy

Repr CH
Audacity Clo
Argentina

Audacity Alef
Argentina

Zamba del Indio Blanco
Argentina